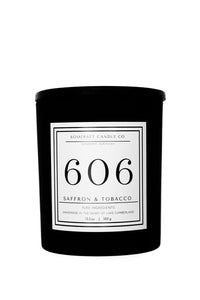 Personalize this cult favorite candle. Released as the 606 candle, it is now available in any Kentucky zip code. 
This area code candle is an exotic and sexy candle. A creamy alluring blend of saffron, tobacco, and vanilla this candle is a luxurious addition to your home or office. A modern opulent scent of confidence and power this candle will transport you to a place of indulgence. 
KEY NOTES: SAFFRON, TOBACCO, VANILLA, TONKA BEAN

Hand Poured in the Capital of Lake Cumberland
100% NATURAL Virgin Coconut Soy Blend Wax with an all-natural wooden wick sourced and made in the USA. Our crackling wooden wicks made from sustainably sourced wood provides an eco-friendly burn. Our candles are vegan, phthalate-free and petroleum free.