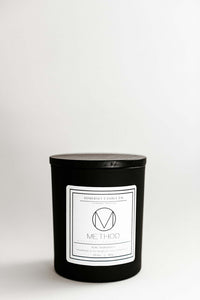 The METHOD candle was inspired by and created for Method and their love for Baccarat Rouge 540 type. A scent that embodies the alchemy of the senses, it will fill your home or office with an aroma of subtle luxury and refinement.
𝑵𝒐𝒕𝒆𝒔: 𝑱𝒂𝒔𝒎𝒊𝒏𝒆, 𝑺𝒂𝒇𝒇𝒓𝒐𝒏, 𝑪𝒆𝒅𝒂𝒓 𝑾𝒐𝒐𝒅 𝒂𝒏𝒅 𝑮𝒓𝒂𝒚 𝑨𝒎𝒃𝒆𝒓
Hand Poured in the Capital of Lake Cumberland
100% NATURAL Virgin Coconut Soy Blend Wax with an all-natural wooden wick sourced and made in the USA. Our crackling wooden wicks made from sustainably sourced wood provides an eco-friendly burn. Our candles are vegan, phthalate-free and petroleum free.